Wakatobi is a small wonder, to be discovered by divers and non-divers. Little visited by liveaboard but well known by the connoisseurs Wakatobi is famous for passionate underwater photographers who come from all over the world to capture these pristine reefs. Wakatobi is a small archipelago located in the center of the famous Golden Triangle (one of the most diverse marine ecosystems on our planet) on the east coast of Sulawesi. The name Wakatobi is an acronym for the names of these four islands (Wangi Wangi, Kaledupa, Tomea and Binongko). Wakatobi is one of the world's best diving destinations with beautiful corals and incredible biodiversity. Jacques Cousteau even said it was most likely the most beautiful dive site in the whole world!
Wakatobi also offers a diverse and exceptional culture and nature that we invite you to discover during your stay.
There are more than 80 listed dive sites in Wakatobi that are easily accessible by Liveaboard. Visibility is always very good and dive sites are diverse, including spectacular walls/drop off, seamounts and slopes. The region's reefs are home to more than 400 species of listed corals and an equally abundant underwater life. The Wakatobi Archipelago is a UNESCO reserve for Human and Biosphere.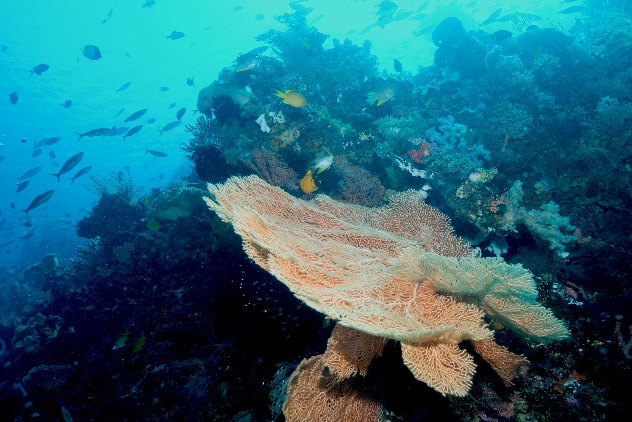 The population of Wakatobi is made up of people from different cultures coming mainly from Buton, Bajo and Bugis. Only seven Of the 143 islands are inhabited. The major part the population (about 120,000 inhabitants) lives on one of the four main islands.
HEALTHY AND DIVERSIFIED CUISINE
We care about the food we propose and believe in continuous improvement. Menus shall please the broad tastes of our Guest and shall be healthy. They shall be adapted and optimised for each cruise based on the wishes of our Client. Our Team buys all the fresh vegetables, fruits, fishes with special attention at the local markets one day before the arrival of the guests. We don't serve ready-made or canned food!
For divers and non-divers, we will offer 6 to 8 days cruises from Wangi Wangi via the islands of Kaledupa, Hoga and of course Tomia. Wakatobi is a unique destination off the beaten track which has a lot to offer for divers and non-divers with also exceptional land adventures. Discovery the local culture, Bajo villages, discovery of tropical forests and mangroves, discovery of endemic birds, snorkeling, idyllic beaches and excursions can be organized à la carte.
DESTINATION WAKATOBI – ESSENTIAL FACTS
Season for diving and climate: the best season is from September to November and March to May which are periods of relative calm of the Banda Sea. The climate in Wakatobi is drier than in the rest of the Indonesian archipelago.
Visibility: very good, between 20 and 50m all year round.
Rainy season: from December to February and June to August.
Water temperature: 25-39 Deg C. A 3mm wetsuit is sufficient unless you are really sensitive to cold, in this case we recommend a 5mm wetsuit.
Depth: 5 to 50m.
Current: generally low, except in some very localized places.
Diving level required: beginner, intermediate or experiment, Wakatobi is indeed a paradise for divers of all levels!
For more information:

https://www.wakatobitourism.com
DESTINATION WAKATOBI – TYPICAL ITINERARY
Discovery and Diving Cruise – 7 days / 6 nights
Arrival and departure of Wangi Wangi
Day 1 – Arrival in Wangi Wangi
Arriving in Wangi Wangi in the daytime, we pick you up at the airport to take you aboard the Jakaré, anchored in the small harbor of Wangi Wangi. The first day is devoted to briefing, discovery and familiarization with the equipment and the boat and the local environment and possibly you will do your first dive in Wangi Wangi Bay. You spend the night in Wangi Wangi's harbor.
Day 2 – Diving in Wangi Wangi
You discover your first underwater sceneries of Wakatobi with very nice dives around the island of Wangi Wangi such as Wandoka Pinnacle, Sombu or simply Wangi Wangi Jetty. This first day will also be an opportunity to discover idyllic beaches and do some snorkeling. And of course there is also the possibility to discover Wangi Wangi's Bajo village. After dinner, the Jakare will make its way to pulau Tomia (about45 NM or 8 hours of sailing).
Day 3 – Diving in Tomia
Arriving in Tomia with a beautiful sunrise, Jakaré will find its anchorage in the north west of the island. We will offer you to dive on sites close to Jakare mooring, such as Mari Mabuk, Magnifica or Coral Table. Snorkeling sites are also superb and many and you will have the possibility to stretch your legs on the ground and discover the village Bajo of Tomia.
Day 4 – Diving around Tomia
Early in the morning, the Jakare will head west for a superb dive along the atoll, Blade Pinnacle. Then the Jakare will move to other dive sites such as Pastel Wall in the channel between Tomia Island and Tomia Atoll to the west. By mid-afternoon, the Jakare will return to the Tomia mooring point from where further activities will then be organized.
Day 5 – Diving in Kaledupa, arrival in Hoga
The Jakare will leave its anchorage early in the morning and head towards Hoga, passing through kaledupa (about 30NM or 5 hours of navigation). On the way, we will enjoy superb dive and snorkeling sites such as Tanjung Peropa and Twin Pick Pinnacle. The Jakare will eventually find a mooring between the island of Kaledupa and Hoga, you will be able to enjoy the pristine beaches of Hoga and a good restaurant on the beach at the Hoga Diving Resort.
Day 6 – Diving in Hoga and visit Kaledupa
The Jakare will remain in the area and you will visit some of the beautiful dive sites in Hoga and Kaledupa such as North Wall or Outer Pinnacles using the Dinghy. You can visit the amazing Bajo village of Sampela or discover other local villages such as Limbo Langgo and traditional weaving centre or take a boat ride in the mangroves.
Day 7 – Return to Wangi Wangi and departure
The Jakare will leave very early in the morning and arrive at sunrise in Wangi Wangi (distance of about 30NM or 5 hours of navigation). Guests will be able to enjoy the beaches and snorkeling in Wangi Wangi and visit the traditional Wanci market as well as the traditional village of Liya Togo in the south of the island. Then it will then be time to say goodbye, we will drop you off at the airport or your hotel in Wangi Wangi.